Just like the MayaRender app, but for After Effects. A quick and easy way to launch AE renders without using the resources necessary to load up the After Effects UI and load each preview frame into memory. Plus this gives you the ability to launch multiple renders at once if you so choose.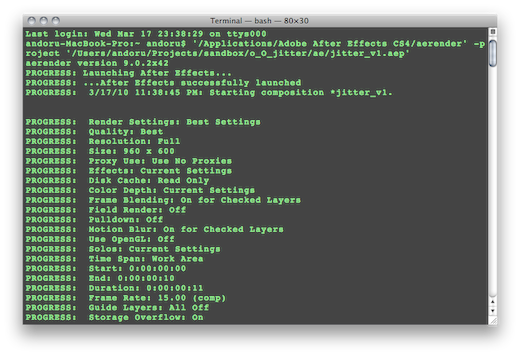 Essentially just another way to render in the background (inspired by Lloyd Alvarez's great BG Render script on aescripts.com), but without ever having to open AE. Render speeds should also be slightly quicker this way as well since no resources are used by the app and only the render engine.
Demo:
Here is a quick demo of the AERender & AEae apps (both available in the "labs" section of this site.

QuickTime Version 960×600 (27MB)

iPhone Version
Enjoy! If there are any issues or concerns please contact: andoruLABS.support.