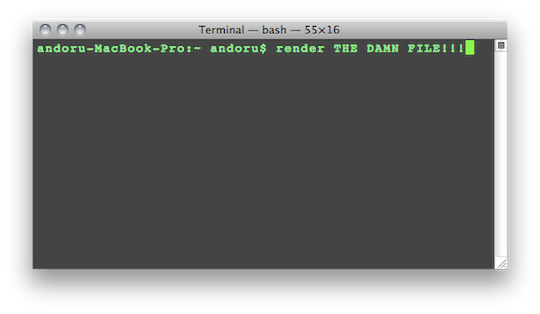 I really don't enjoy setting renders in Maya, and I definitely don't enjoy manually setting up command line renders, but it is definitely the way to go when it comes to rendering animation.
The purpose of these little apps is to make that a drag and drop process:
MayaRender – Drag any Maya .ma or .mb onto this droplet to automatically start a command line render in terminal. (Asks to choose Renderer and add any additional Render Flags, universal version will ask which Maya version you would like to use)
Maya SW, MentalRay, and RenderMan, and V-Ray are setup to automatically startup up renders as soon as a file has been dragged onto them, avoiding having to put in any options. (The renderer will automatically use whatever you have setup within your Render Globals in your scene)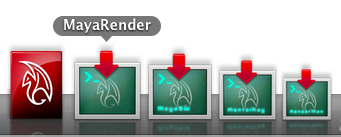 Download: MayaRender (6.2MB .zip)
-(Based on code originally developed by Dustin & Cody Beltram.)
Log:
-2009-12-1: added 2010 versions plus V-Ray, and 3delight droplets.
-2010-3-10: fixed Maya 2010 versions to work with the changes that were made to the location of the "render" binary.
-2010-3-20: fixed typos in latest Mental Ray versions (2009 & 2010) and removed "mail_cmd" in MayaRender2010 (universal version), top secret feature coming soon. . .
-2010-4-10: Updated for Maya 2011

Enjoy! If there are any issues or concerns please contact: andoruLABS.support.