Quite possibly the laziest of all the lazy apps. projector is a simple workflow droplet app that allows you to easily change project folder icons to keep your film/animation projects nicely organized at a glance. So you can easily go from this: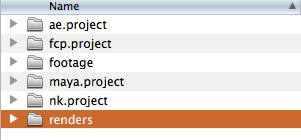 To this:
In no time at all.
Demo:

QuickTime Version 1280×800 (39MB)

iPhone Version


Download: projector download page. . .
I have also included a .pdf User Guide so check it out if you have any problems.
The icons included are modified versions of the default OS X 10.6 icons or icons included with the specific apps, and a few 2001: A Space Odyssey icons made by Mischa Mclachlan.
If you have any requests for icons to include in the release let me know in the comments! It will be easy to keep track of that way and stay attached to this post.
Enjoy! If there are any issues or concerns please contact: andoruLABS.support.
[andoru.labs] | [mischa.mclachlan]