Maya is great, it can handle all of them CG's that are so popular now a'days. What isn't so great is that due to it's fancy pants nature, it can crash at very inopportune times leaving you with your hopes crushed and tears streaming down your face. . .
Luckily, Maya does store recovery .ma files on every operating system that it is available for, on the Mac they are stored in a hidden folder (/private/var/folders/), and in those hidden folders are folders that a normal human doesn't really understand.
However, it is very easy to set up a search that will indeed search these hidden folders for .MA files, allowing you to easily find your latest recovery data.
I quickly made a saved search (smart folder) that anyone can use to quickly access this default recovery location: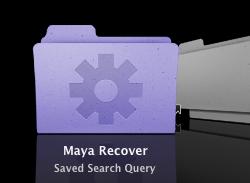 Maya Recover Smart Search
(1kb .zip file)
[Mac OS X 10.5+ if you are using 10.4 you are kidding yourself)
Just unzip the file, and place it in a easy to find directory (I recommend the default Maya directory in your User/Documents/maya folder, so it is always easy to find). I don't care how cool you are, if you have used a 3D app, it has crashed on you before, and you have shed a tear. If you try this out leave me a comment.
UPDATE: This will-not always work 100%, sometimes it can miss some temp files, because it doesn't always search the entire nested directories, so if you aren't seeing it, another method is to go to a Finder window press Cmd+Shift+G, and type /private/var/folders/ and press return. In that "folders" folder is a bunch of arbitrarily named folders, in one of those there should be a -Tmp- folder that will likely have some .ma recent recovery files.